back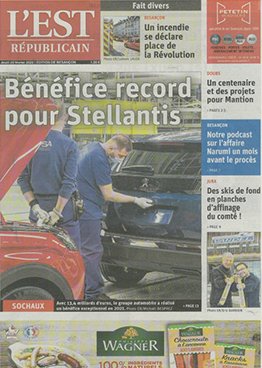 European's leading manufacturer of sliding systems sees its turnover increase. A centenarian in good shape.
Type of magazine: Regional press
Newspaper: L'EST REPUBLICAIN
Date of publication: February 24th 2022
Page(s): 20
Periodicity: Daily
Journalist: Philippe Sauter
Country: FRANCE
Website: L'EST REPUBBLICAIN
MANTION, the leader in sliding systems, especially for doors, took advantage of this Covid pandemic to do some minor decoration work. The MANTION Showroom has been completely redesigned, showing the most attractive products to customers from France and elsewhere. Little jewels of technology, for swimming pool entrances, interior living rooms or, more recently, building doors.
Some are heavy, designed to support systems weighing several tonnes, such as these rails for airport hangars. You can also configure your sliding door system for your own home and order it directly from Slidsoft®.
Like thousands of companies, the last few months have been complicated. "We have had to live between periods of obligatory slowdown and very intense recoveries with a phenomenal amount of work, but in the end, 2021 is one of the best increases in turnover in MANTION's history. Finally, we had to adapt to the rising cost of raw materials and constantly adjust. In 2021, we have changed the price of our products three times!" says Martial Devaux, New President of Group MANTION.
The new manager of MANTION, also wants to simplify things, by passing by a dematerialization and digitalization of certain activities, but also by lightening a catalog threatened of obesity. "We have a catalog with 4500 references", notes Martial Devaux.
As for export sales, they now represent 45% of the company's turnover.
In fact, 2023 could be the year of the switch to a majority of export sales.
However, the core of the business remains the factory in Besançon (25), its home town, where it has been producing for one hundred and two years.