back
Events | Group News | 13.04.2022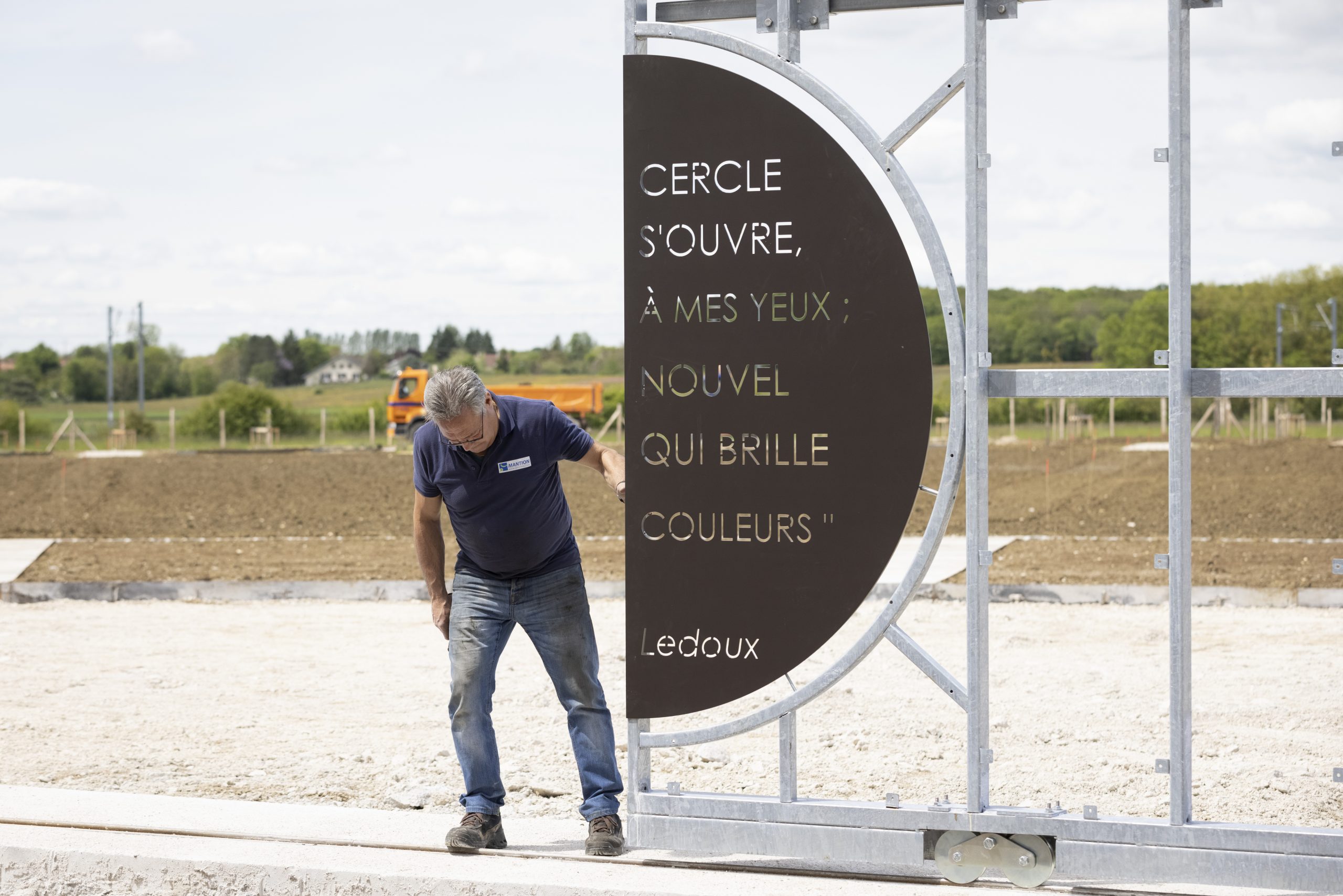 After the labyrinthine sliding work, it is now time for the huge gate to enter the great circle
The Key in the heart of the circle with MANTION
Contacted by the Saline Royale at Arc et Senans (Doubs – 25), the MANTION company was selected for the installation of a gate composed of 2 panels, with in its center, the "Immense Circle" where is inscribed a quotation of Nicolas Ledoux*, visible by an opening of the portal: "An immense circle opens, develops with my eyes; it is a new horizon which shines of all the colors". A quote that expresses the quintessence of the project.
In close collaboration with the students of Lycée Hyppolyte Fontaine de Dijon and the Saline Royale, the MANTION team shared their knowledge by creating this project on a track on the ground.
The framework is today welded and the 4 curved curves are in place. The weight of the dressed panel will be 920 kg, and 6,15 m long. The gate will take the form of a sliding porch 10.4 m wide and 2.8 m high with a visible face painted in RAL 8019 grey brown. Currently, the weight of the bare steel frame is 400kg.
It is a gate that slides with precision in the large courtyard of the Royal Saltworks in Arc et Senans, a Unesco World Heritage Site.
Between the Loue river and the forest of Chaux, the nature is honored and the MANTION gate fits perfectly in this great space of biodiversity.
You can discover this gate now at the Saline Royale at Arc et Senans, and while waiting to go there, do not hesitate to discover the project on the Royal Saltworks Website.
*Claude Nicolas LEDOUX was a French architect, he was in charge of the construction of the Saline Royale at Arc et Senans between 1774 and 1779.